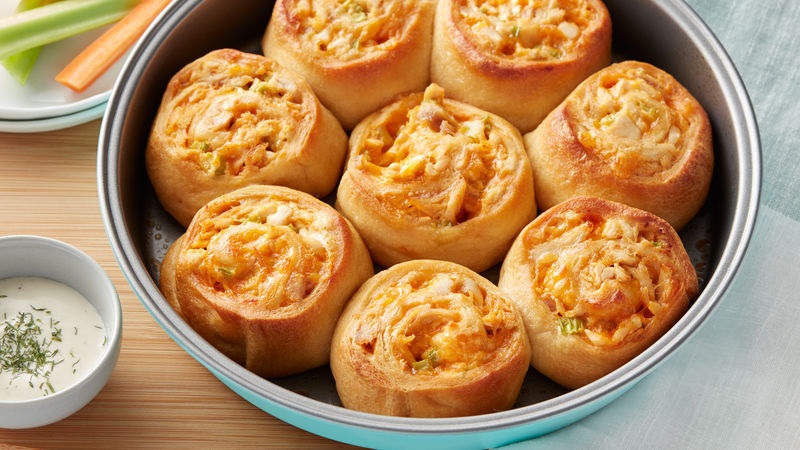 Mozzarella rolls with buffalo chicken
Mark Griggs, 2 months ago
4 min

read
16
If you're looking for a mouth-watering appetizer that combines the best of both worlds – cheese and spicy buffalo chicken – then look no further than mozzarella rolls with buffalo chicken. This dish is perfect for a party or a game-day snack, and it's surprisingly easy to make. In this blog post, we'll guide you through the step-by-step process of creating these delicious appetizers, and we'll also answer some common questions about the dish.
Ingredients
Before we get into the recipe, let's take a look at the ingredients you'll need to make mozzarella rolls with buffalo chicken. For the chicken, you'll need boneless, skinless chicken breasts, hot sauce (preferably Frank's RedHot sauce), garlic powder, paprika, salt, and pepper. For the cheese rolls, you'll need mozzarella cheese, toothpicks, and a baking sheet.
If you're unable to find mozzarella cheese, you can use other types of cheese such as cheddar or Monterey Jack. Toothpicks are essential to hold the rolls together, but you can also use kitchen twine to tie the rolls if you prefer.
Buffalo Chicken Recipe
To create the buffalo chicken, start by preheating the oven to 375°F. Then, mix hot sauce, garlic powder, paprika, salt, and pepper in a bowl. Dip the chicken breasts in the mixture, making sure to coat them well. Place the chicken in a baking dish and bake in the oven for 25-30 minutes or until the chicken is fully cooked.
You can also use leftover rotisserie chicken or canned chicken for this recipe. If you're short on time, a store-bought buffalo sauce can be used instead of making your own sauce.
Preparing the Mozzarella Rolls
While the chicken is baking, prepare the mozzarella rolls. Start by slicing or shredding the mozzarella cheese into thin pieces. Once the chicken has cooled, shred it into small pieces using a fork. Then, take a piece of cheese and wrap it around a small amount of shredded chicken. Secure the roll with a toothpick or tie it with kitchen twine. Repeat the process until all the chicken and cheese have been used up.
Baking and Serving
Preheat your oven to 350°F. Place the cheese rolls on a baking sheet lined with parchment paper. Bake for 10-15 minutes or until the cheese is melted and the rolls are heated through. Be careful not to overbake, as the cheese can become too stringy and the chicken too dry.
To serve the mozzarella rolls, drizzle them with some buffalo sauce or serve the sauce on the side. You can also serve them with ranch dressing for a milder flavor. These rolls are perfect for serving with other appetizers such as sliders, potato skins, or chips.
Conclusion
Mozzarella rolls with buffalo chicken are a simple and delicious appetizer that are sure to please a crowd. The spicy buffalo chicken pairs perfectly with the gooey melted cheese, and the rolls are easy to prepare and bake. Try this buffalo chicken recipe at your next party or game day gathering and watch them disappear quickly.
FAQs
Can I use a different type of cheese instead of mozzarella?
While mozzarella is the classic choice for this dish, you can experiment with other types of cheese, such as cheddar or pepper jack. Just be aware that the melting properties and flavor may differ.
Can I make the buffalo chicken ahead of time?
Yes, you can make the chicken a day or two in advance and store it in the fridge. Just make sure to reheat it before using in the mozzarella rolls.
Can I make this dish vegetarian?
Yes, you can substitute the chicken with vegetarian chicken alternatives such as soy or seitan. You can also skip the chicken altogether and use vegetables such as roasted peppers or zucchini instead.
How spicy is the dish?
The spiciness level depends on the hot sauce you use. Frank's RedHot sauce is a classic choice and has a moderate level of heat. If you prefer a milder flavor, you can use a buffalo sauce with a lower heat level or mix the hot sauce with some butter or honey to balance out the spiciness.
Can I freeze the rolls?
Yes, you can freeze the rolls before baking them. Simply wrap them tightly in plastic wrap or aluminum foil and store them in an airtight container in the freezer. When ready to bake, thaw them in the fridge overnight and bake as directed.
Related posts