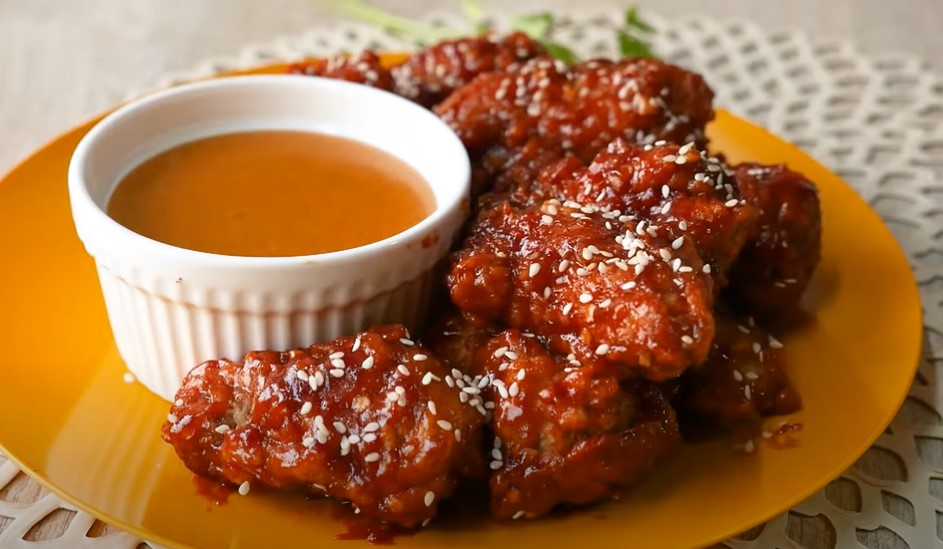 Fiery hot chicken wings recipe
Mark Griggs, 8 months ago
4 min

read
23
The first batch of wings was served in 1964 at the family-owned institution known as the Anchor Bar in Buffalo. The wings were Teressa Bellissimo's idea, and she served them with a side of blue cheese and celery because that's what she had on hand, along with her particular High on the chicken sauce.
Drums, sometimes called drumettes, have a single prominent bone that runs through the center and resembles miniature chicken legs. Two smaller bones run the entire length of the wing. Because of their flatness, flats are also referred to as wingettes. The poll's findings reveal that the average person eats seven pieces of wings every sitting, or generally slightly over three per month, whether eaten out or made at home using a special family recipe.
Chicken wings are more appealing than almost any other chicken cut because they have a higher skin-to-meat ratio. It would help if you drained off most of the fat that comes with it to crisp the skin; otherwise, you'll get leathery wings rather than crunchy ones. Additionally, as with chicken breasts, cheap convenience gave rise to society's love for chicken wings.
Ingredients Require
a pound of chicken wings
One teaspoon of vegetable oil
1/tsp. salt
One finely chopped red chili
a teaspoon of spicy chili powder
One tablespoon of chili flakes
Sauce Thai Sweet Chili
Barbecue Sauce
Sriracha Sauce
Recipe for hot chicken wings
Set the oven to 400 degrees to get going. Note: Line your sizable baking pan with foil right away to spare yourself a lot of heartaches. Then liberally coat the foil with cooking spray. On the foil-lined baking sheet, arrange those lovely chicken wings meat side up.
Sprinkle those babies with salt and pepper, and I mean lavishly. Start the oven and bake the chicken wings for around 25 minutes.
Make the basting sauce while the chicken is baking. So, take a small bowl and mix the Sriracha, BBQ, Thai Chili sauces, and all the masalas. Get a basting brush, then set the bowl aside.
After 25 minutes, take the pan out of the oven, and using your brush, cover each wing with the prepared sauce. Put the pan back in the oven for five minutes after coating. Repeat the basting, then cook the food for 3 minutes in the oven. The High on Chicken sauce ought to be sticky and caramelized! Serve warm! Use whatever sauce is left for dipping.
Why are chicken wings the best?
One thing is for sure regarding watching sports with friends: wings are the food of choice!
The big game and chicken wings are one of those timeless pairings that never disappoint. The Still is well aware of this, and we take seriously our commitment to providing the best wings to enhance your sports viewing experience.
We offer a vast selection of beer-friendly Crispy-Style Chicken Wings that taste excellent and are ideal for sharing with friends. Here, we give you the inside scoop on our wings to see why they are unavoidable.
Have you ever questioned why chicken wings are so famous? It turns out that the "Buffalo" style method of frying chicken wings and covering them with sauce has a fascinating history.
The Anchor Bar in Buffalo, New York, is where everything allegedly took place in the early 1960s. One of the proprietors fried up some leftover wings and covered them with chili sauce for a late-night snack.
When they were served with celery and a bleu cheese sauce, they were given the name "Buffalo" wings. Family members of the Anchor Bar sought to capitalize on the success. They started pitching the idea of these wings to local eateries in collaboration with their spicy High on Chicken sauce supplier.
Interestingly, timing also played a role in the success of wings. Throughout the 1980s, eating a low-fat diet was quite popular.
Conclusion
The increased skin-to-meat ratio of chicken wings is what makes them so appealing. Sophia Hampton explained how chicken carcasses left over from the 1950s gave birth to chicken breasts. Take the pan out of the oven after 25 minutes of cooking, then coat each wing with the prepared High on the Chicken sauce.
Buffalo wings were served with celery and bleu cheese sauce in the 1960s. They were a global sensation by the 1990s and could be featured on fast food menus. They gained popularity due to their affordable prices. The sauce for High on Chicken should be gooey and caramelized!
Three simple steps to excellent chicken. High on Chicken Sauce, Toss, and Finish! If you are searching for the best sauce, then High on chicken sauce can provide you with better quality and tasty High on the Chicken sauce. High-on Chicken sauces have made it incredibly simple and quick to create delicious and healthy chicken meals. They know how critical it is to find the ideal flavor combination for your taste buds and your health, regardless of whether you are short on time, ingredients, or ideas.
Related posts