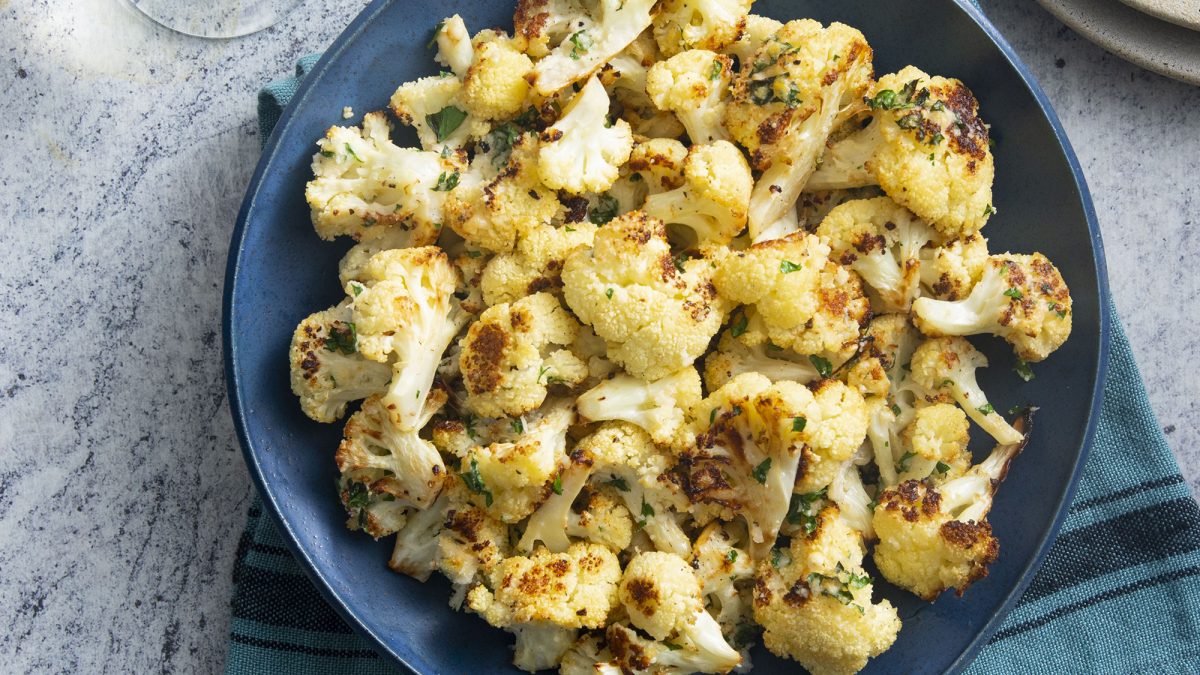 8 Different Ways to Cook Cauliflower
Rana Madanat, 11 months ago
5 min

read
41
Cauliflower has been the queen of vegetables for a long time. This low-carb vegetable is enjoyable any time of the year and adaptable to any kind of diet. Whether roasted, baked, fried, in a stew, soup, or pizza crust, there is no doubt that cauliflower is one of the tastiest and most versatile vegetables. The possibilities are endless! 
Today, I will share eight of my favorite ways to cook cauliflower. 
Cauliflower Pizza Crust
With recent health foods becoming trendy, there is no doubt that cauliflower pizza crusts have invaded the frozen pizza section in supermarkets. People looking for substitutions to flour can simply chop up a head of cauliflower and either steam it or cook it in a skillet with a bit of water. 
Once the cauliflower is cooked, bring it to room temperature and grate it with a food processor. Pat the cauliflower dry, then transfer to a bowl. Then add one egg, a couple of cups of fresh mozzarella cheese, and a little salt. Next, form it into a pizza crust. 
Now you're almost finished! Just bake it on a lined baking sheet for 20 minutes, and it's ready to be made into a pizza. Top with your favorite topping and finish baking. 
Cauliflower Soup 
Cauliflower soup is so creamy, rich, and far from boring! Use different spices to make this soup flavorful. 
Start with sauteing some onions and garlic. Then add a couple of chopped potatoes, carrots, fennel, and one head of chopped cauliflower with olive oil. Season the vegetables with some salt, pepper, and yellow curry paste and mix everything together for a few minutes. Once everything has been thoroughly combined, add chicken or vegetable stock. 
You should add just enough to cover the vegetables. Then you can bring everything to a boil. Cook the vegetables until they are tender. Work in batches and either blend it in a standing blender or use a hand blender to mix all the vegetables to a smooth texture. Bring the mixture back to the pot and add a cup of coconut milk. Then bring it to a boil for a few minutes and top with some toasted pumpkin seeds. To serve the cauliflower soup, drizzle some roasted chili garlic sauce and enjoy!
Oven Roasted Cauliflower With Tahini Sauce 
Oven roasted cauliflower with tahini sauce is an easy, healthy, delicious dish that will be ready in just 20 minutes. Simply cut the cauliflower head into medium-size pieces and lay them on a baking sheet. Drizzle the cauliflower with olive oil and sprinkle them with salt and pepper. Bake them at 425F for 15 to 20 minutes. Once the cauliflower is tender and crispy, drizzle some tahini sauce, sprinkle some paprika or sumac and enjoy! 
Cauliflower Mashed Potatoes 
Enjoy cauliflower mash without the extra carb from the potatoes! 
Simply saute a couple of chopped clean leeks with olive oil and butter, and add some garlic for 7 minutes. Add the chopped cauliflower and salt and pepper to season. Once it is halfway cooked, cover the pot with a lid and let the cauliflower cook until tender. 
Drain any extra water and transfer the cooked cauliflower and leek to a food processor. Blend the mixture until you reach the desired texture. Transfer your mashed cauliflower into a bowl, add a couple of tablespoons of melted butter and some parmesan cheese, and you are ready to enjoy this tasty side dish! 
Roasted Cauliflower Steak
This roasted cauliflower steak is so tasty; for a moment, you may even think you are eating a juicy steak. To make this recipe, simply slice the cauliflower lengthwise through the core into 4 steaks. Brush the cauliflower steaks with olive oil on both sides and bake them in the oven at 400 F. They should cook for about 25 minutes, and you should flip them once at about halfway. Once they get toasty and tender, serve them with some sauteed mushrooms and onions. 
Cauliflower Rice
Light and simple cauliflower rice will make you want to eat more rice, which means more vegetables! Basically, you should use a food processor with a grater blade or a hand grater to turn the cauliflower head into little pieces the size of rice. After grating the cauliflower, saute them in a large skillet over medium heat with one tablespoon of oil. Cover the skillet as needed and steam the rice as you would for regular rice. It should only take 8 minutes to cook cauliflower rice. Just stir occasionally, and you are done! 
A Whole Lot of Cauliflower Head
This roasted cauliflower head will be a centerpiece on your dinner table. Make a simple marinade with minced garlic, olive oil, lemon juice, fresh thyme, oregano, and salt pepper. If you have some sumac or zaatar, add that too. Cut the bottom part of the cauliflower to the stalk, and keep it whole. Drizzle the marinade all over the cauliflower from top to bottom. 
Either use a dutch oven pot or a baking tray wrapped in foil. Bake the cauliflower head in the oven at 400 F for 30 minutes uncovered, and broil it for a few minutes until it gets toasty and browned. Sprinkle some fresh parsley, and enjoy!
Cauliflower Sauce
This sauce is so delicious you might find yourself replacing your Marinara sauce! To make cauliflower sauce, I simply use a blender and add some chopped cauliflower, cashew or almond milk, nutritional yeast, and some seasoning like paprika, salt pepper, curry, and coriander. Make sure to add water as needed to get the right consistency. Place the cauliflower sauce on top of some tasty pasta, and you have an amazing dinner ready for you in no time! 
Cauliflower is a versatile vegetable.
This vegetable is an extremely tasty treat and anyone can prepare these simple recipes I shared with you. In addition to this; cauliflowers are extremely healthy. They are high in fiber and contain antioxidants. They also aid in weight loss and are a great alternative to grains and legumes. So, the next time you are looking for a low-carb diet plan; don't forget to add cauliflower to your meal plan.
Rana Madanat
Hi, I'm Rana Madanat and I blog at ranasrecipe.com. My passion for food began very early in my life. And after managing a cafe, a granola business and helping other food businesses scale up, I found my true calling in creating wonderful recipes so that everyone can enjoy cooking as much as I do!
Related posts